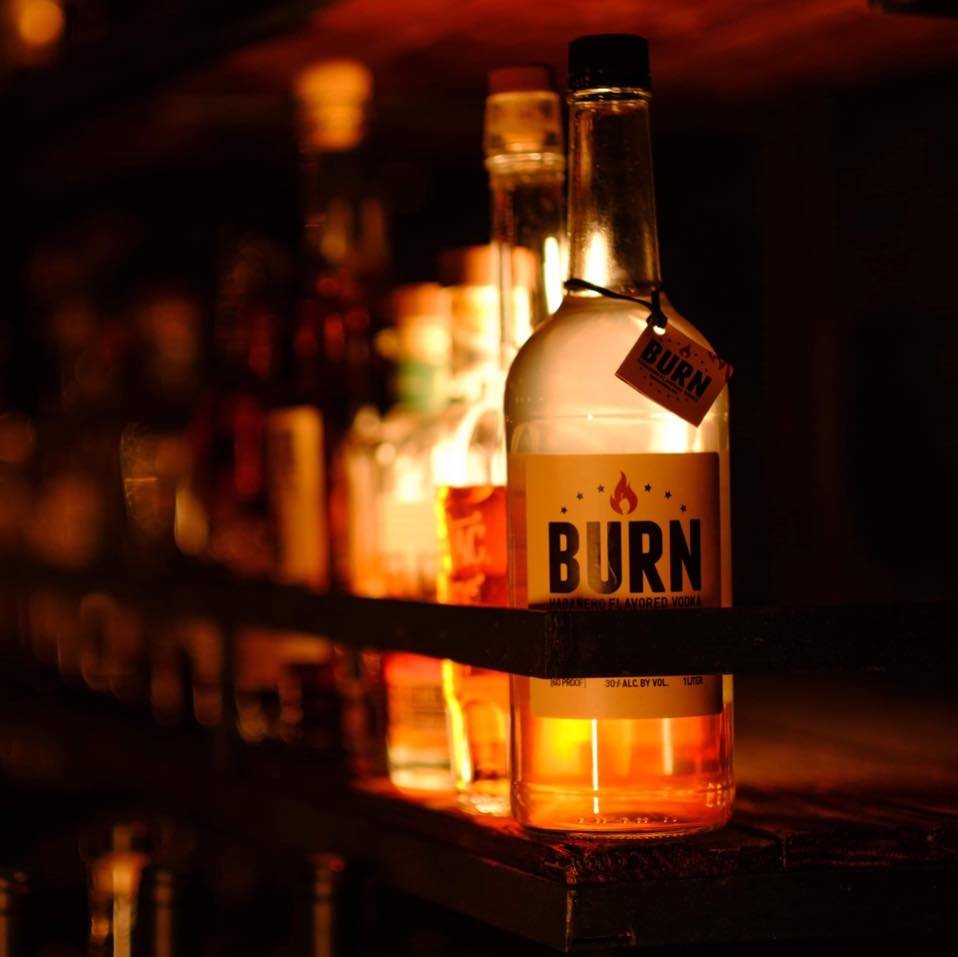 Burn Habanero Flavored Original Vodka
Sale price

$28.99
Regular price
(/)
Ships from San Diego, California
---
---
The first Burn shots were created in the Summer of 2008 in the heart of the music scene in Lubbock, Texas. What started as a special treat for unsuspecting guest turned into a crowd favorite. Apple Burns, Watermelon Burns, Candy Burns, and Pickle Burns became a staple in the Lubbock music scene.
Created with a unique combination of organically grown, non-artificial flavoured Habaneros.
30% ABV
ABOUT THE HABANEROS
We experimented with combinations of Habaneros and its hotter cousins (Ghost, Scorpion, Reaper…). A lot of trail-and-error (mostly error) led to an acceptable concentrate.
However, it still had to be properly mixed with vodka. The bartenders at the Blue Light are well trained to produce Burn vodka. But bartenders at other locations are not used to it. They get busy, mix drinks in a hurry, and a small error with a Habanero concentrate has consequences. It had to produce a ready-to-drink product rather than just one of the ingredient, and one that had to be handled carefully.
We contacted several distilleries, but they showed little enthusiasm for using fresh peppers. Their preference was to produce an artificially-flavored vodka. But every sample we tasted failed to reproduce the expected 'habanero delay', had a chemical smell, lacked the desired aftertaste, or had some other fundamental flaw. Producing a synthetic copy that does not taste right from beginning to end had no appeal to us. We do like fresh peppers.
He was all in favor of fresh produce, but judged our concentrate to be too dilute. We went back to the drawing board and produce a '3X' fresh-pepper concentrate. It has now evolved even further.
After testing many vodka options and blending methods, we settled on this 60-proof vodka distilled from locally-grown corn. The fermented grain is 16 times distilled to reach 192-proof and then cut with RO-water down to the desired alcohol concentration. A fixed amount of concentrate is added during bottling.
Thus, each bottle has a little cloudiness because of minute traces of peppers. We could filter them out but decided not to do so: These traces of fresh peppers are part of the Burn experience. Just shake the bottle and enjoy. So far, most of our peppers have been grown from seed in Lubbock.
Burn Habanero Flavored Original Vodka
Sale price

$28.99
Regular price
Choose options