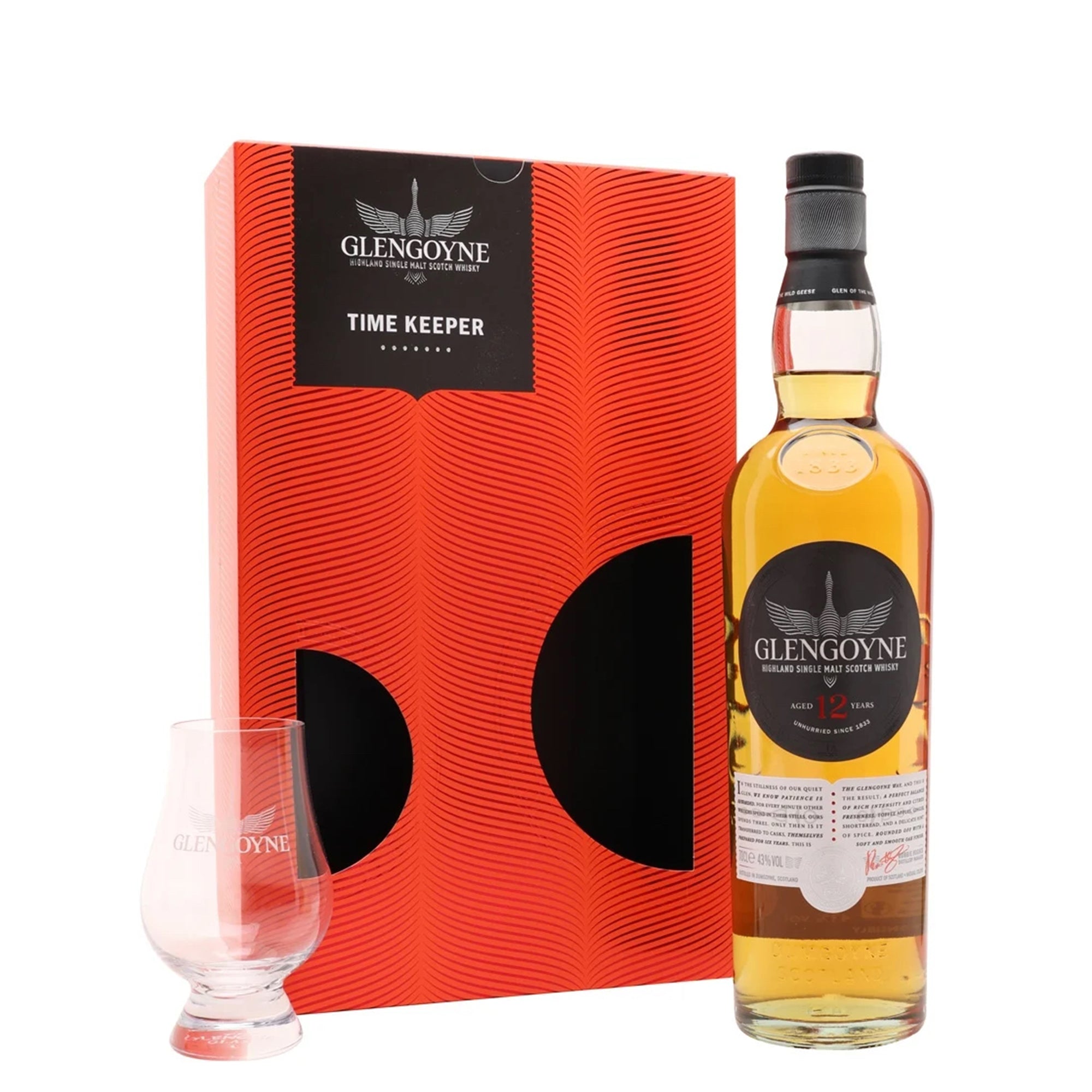 Glengoyne 12 Year Timekeeper with Glencairn Glass
Sale price

$63.99
Regular price
(/)
Ships from San Diego, California
---
---
Lemon zest, toffee apples – and a scent of coconut. Hand-selected sherry casks help create this paradise of flavours and rich, golden colour. It's the taste of Scotland's slowest distillation, and their insistence on barley dried by air – never peat.
Includes Glencarin Glass.
APPEARANCE: Natural, rich gold
NOSE: Coconut oil, honey, lemon zest, dried oak
PALATE: Toffee apples, cinnamon spice, ginger, orange, shortbread
FINISH: A hint of sherry and soft oak. Very well balanced
43% ABV
SUSTAINABILITY
We are proud of the progress we have made on our sustainability journey.
We were the first distillery to adopt a wetlands facility to manage 100% of the liquid waste we don't need.  The liquid makes its way through a series of twelve pools; each is thick with reed beds. This slows down the flow and removes anything that would harm the delicate balance of the local burn.
The water is then safe to rejoin the burn, which winds its way into the river and on to Loch Lomond. Less waste. Less energy. More wildlife.
The wetlands cut our waste by around 25% – and because the process uses gravity, it only takes a 1.5KW pump to send the spent lees on their way. What's left of the solid waste is then harvested sustainably for enough energy to power 354 homes each year. 
Eleven Years on from the introduction of the Glengoyne Wetlands and biodiversity is alive and well at the Glengoyne Distillery.  Our wetlands are made up of 12 individual cells which are home to 14,500 plants of 20 varieties and today provide a haven for local wildlife.
Like the geese, we also harness the power of the wind to help us reach our destination by sourcing 100% of our electricity from turbines, and from 2022, from solar energy too. 
So, with every sip of Glengoyne, we continue our journey as we raise our glass to a greener and more sustainable future.
Choose options