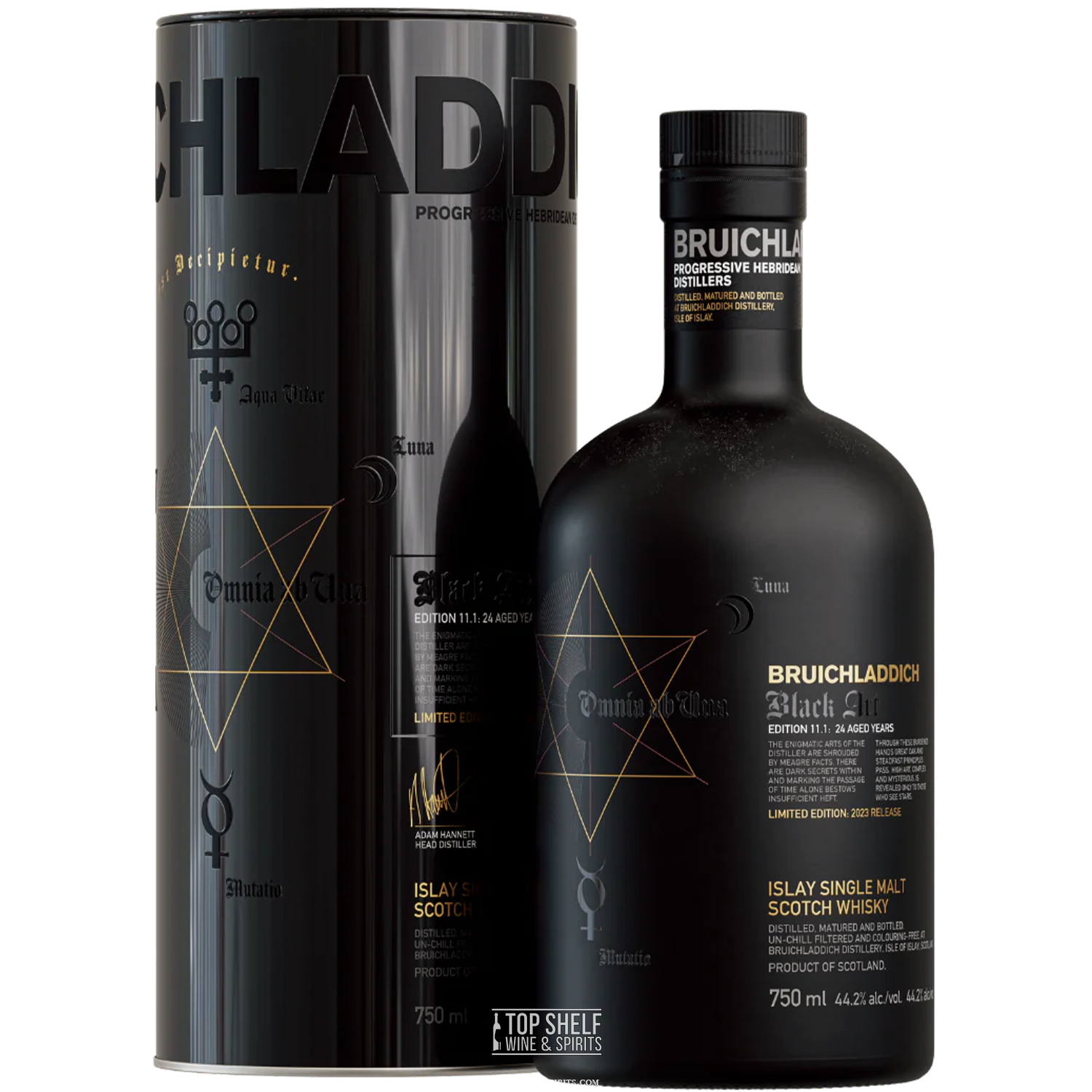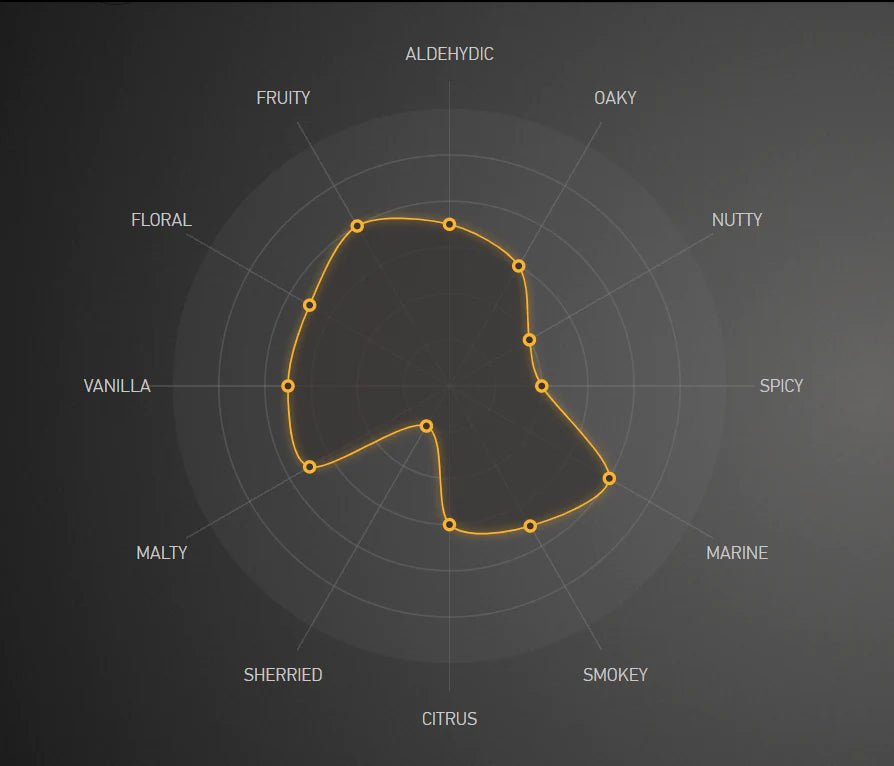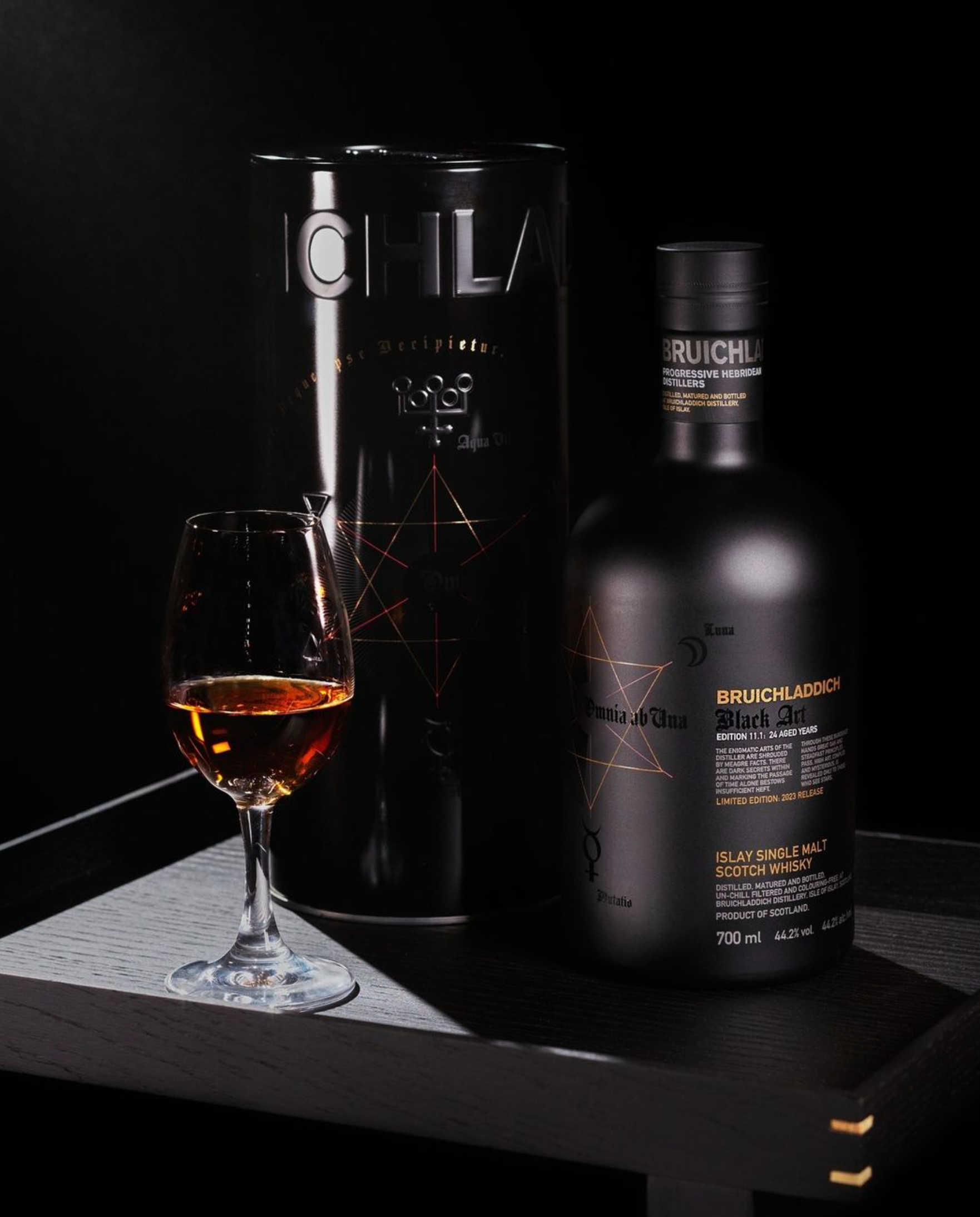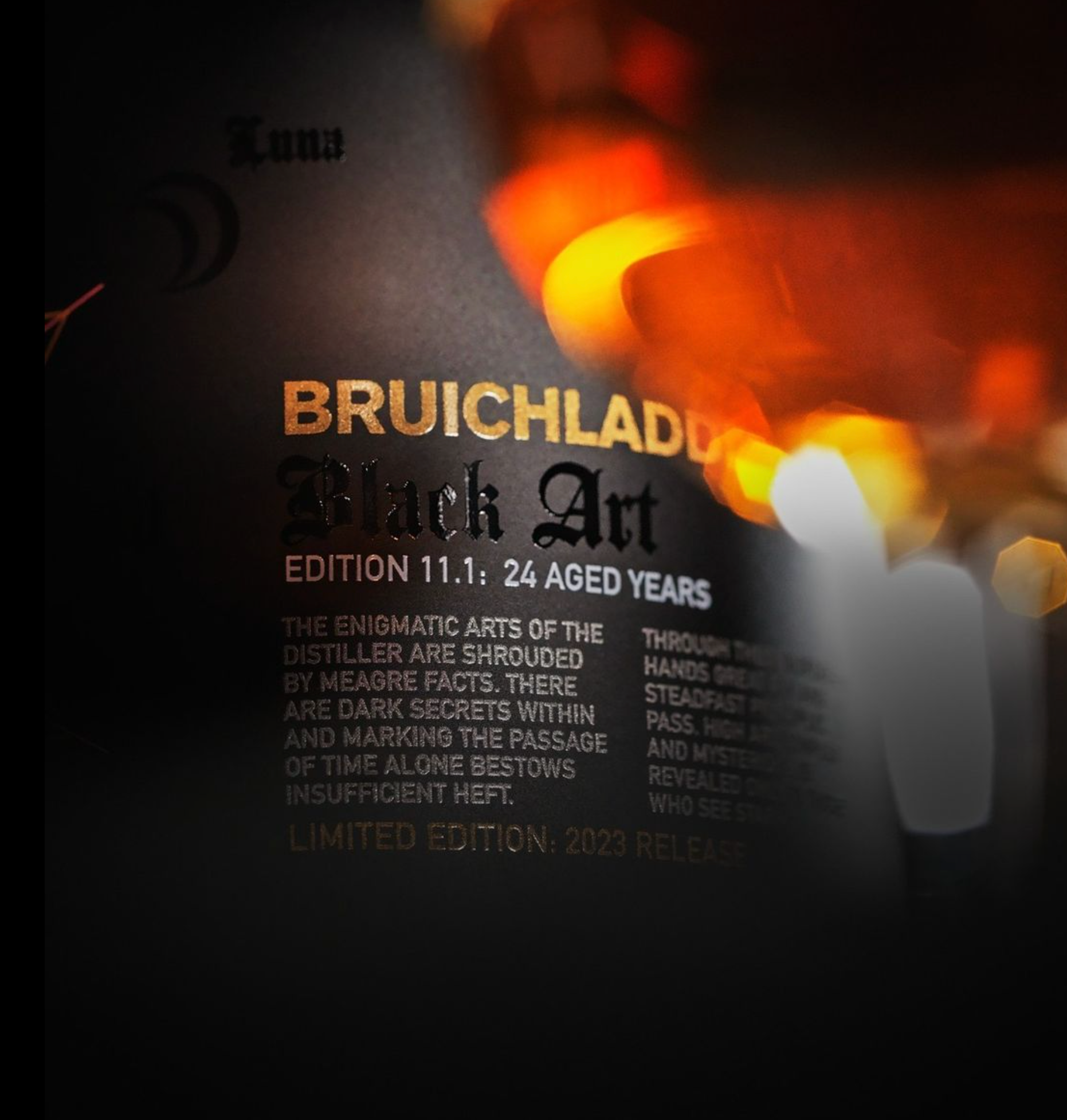 Bruichladdich Black Art 11.1 24 Year Islay Single Malt Scotch
Sale price

$492.99
Regular price
(/)
Ships from San Diego, California
---
---
Black Art 11 has been created using pre-renaissance casks from Bruichladdich Distillery (pre-2001) which have been safeguarded and maturing on Islay for 24 years.
An enigmatic alchemy which relies on nature, craftsmanship and the quiet passing of time, what happens inside each cask under cover of darkness in the depths of the warehouse remains a mystery. Black Art 11 is a testament to this elusive mastery.
Using artisanal techniques passed down from one generation to the next; the spirit is pulled exclusively from Bruichladdich distillery pre-renaissance casks which have been patiently maturing on our island home for almost three decades. The finite single malt is created in secret by our head distiller, Adam Hannett, with the recipe only known to him.
Since its inception in 2012, Black Art is the antithesis to Bruichladdich's traditional commitment to total transparency. Where everything from exact recipe, cask type and specific barley varietal is usually revealed, Black Art is created in total secrecy, with the consumer putting complete trust in Bruichladdich's Head Distiller, Adam Hannett.
88.4 Proof / 44.2% ABV

TASTING NOTES
COLOR
Rich Tawny 
NOSE
Dried fruits, leather and a hint of citrus immediately open on the nose, followed by a fresh sea breeze. Sweet fruit and floral notes come to the fore, with poached pear, delicate rose hip syrup, black cherry, and sweet mango. The complexity of the single malt is apparent as the aromas continue to open, with cedar and mellow oak complemented with butterscotch, praline, honey, and a hint of cinnamon. Warming oats are balanced with fragrant notes of rose and pear drops.
PALATE
Dried fruits, dates, raisins, barley sugar, leather and oak open on the palate, followed by butterscotch sweetness, praline and hints of coconut and fresh citrus. Sweet apple and pear are married with toasted oak, warming wood spice, dark plums and marzipan, with layers of depth opening with each sip.
FINISH
Oak and dried fruit come to the fore, with Christmas cake notes of sultanas, fig, marzipan, and lingering honey adding to the beautifully rounded finish.
SUSTAINABILITY
We are working to reduce the impact of our operations and become more environmental in our actions, all with a heightened sensitivity to growing within our island home.
We must ensure our impact is positive, and that we continue to improve the quality of life for our planet and our people. Only with a clear vision, holistic approach and a solid foundation, will future generations be inspired to take over as custodians.
Since our renaissance in 2001, Islay has been at the very heart of our decision making. We have a strong sense of responsibility to our island and the people who live here. To us, this means spreading the economic benefit of the whisky industry into our community, whether that's directly through our employment, or indirectly through our opportunities in farming, haulage, hospitality or construction.

Focusing on our people, our growing partners, volunteering and local projects, we will continue to develop our Islay-centricity. Indeed, our next major project will allow us to complete a proportion of annual production through an 'all-Islay' outfit.
Energy: As part of our program to reduce our carbon footprint, we've installed a circulatory heating system to recycle our hot wastewater and have switched to 100% renewable energy, sourced within the UK. Ultimately, our ambition is to decarbonise distillation by 2025.
Agriculture: We will continue our research into sustainable agriculture, exploring the models necessary to make our plans viable. We will be traceable and transparent and continue our progressive approach to growing and buying barley.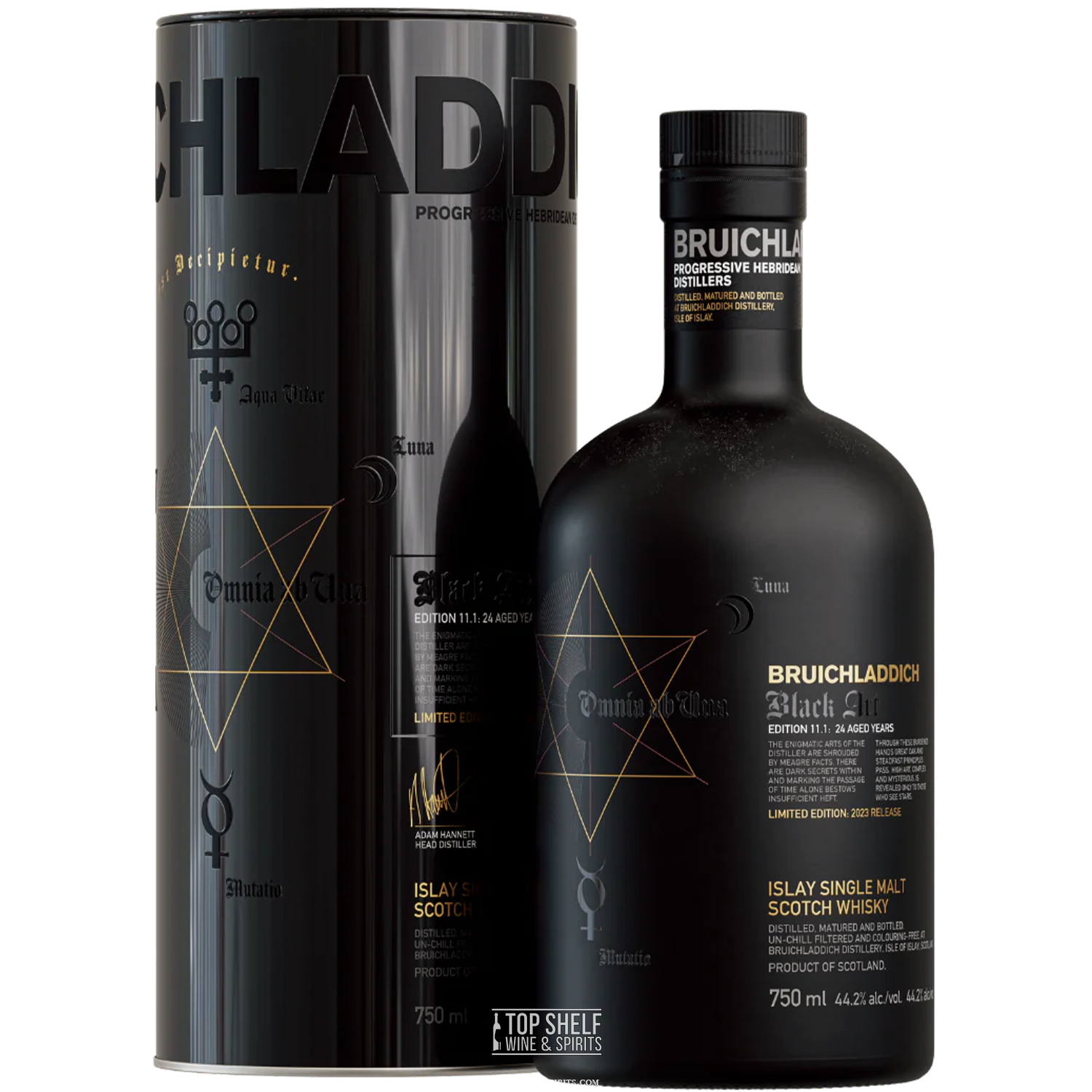 Bruichladdich Black Art 11.1 24 Year Islay Single Malt Scotch
Sale price

$492.99
Regular price
Choose options